Who Should Be In Our Next Community Minute?
We Care About Our Community
Community Minute is a monthly feature we do that highlights a non-profit at, no cost to them, in our Kansas City Community.
Month after month we continue to spotlight organizations such as Midwest Music Foundation, Down Syndrome Innovations and No Kid Hungry to name a few.  We have carefully chosen to highlight areas of our community that are in need.  These non-profits and many more like them are changing lives in our community and helping those in need.  If we can help by promoting them, then we want to do that!
Community is obviously a common thread and a foundational pillar of how we run our business, establish our partnerships, and how we approach our day-to-day operations.  We have always and will continue to ask questions like: How is this helping or impacting our community? 
In the past, we have chosen non-profits that we or someone we know have been affected by.  We want to bring awareness to more local non-profits by using the tools we have to spread their valuable messages.  We are putting a call out to the community to nominate a local non-profit that has touched your life or that has special meaning to you or someone you know.  We want to know what local non-profit is important to you, your family or friends.  Focusing on local non- profits is where we think our efforts can have the most impact.
At no cost to the non-profit, we offer a professional video, local magazine spotlight, paid advertisements on our social media platforms, as well as a radio ad with our partnered radio station KKFI 90.1 FM. We run those advertisements for an entire month and also send out a monthly newsletter that reaches thousands of individuals and businesses.  We use every opportunity to bring as much awareness and attention as possible to these non-profits with hopes that someone somewhere will benefit, gain knowledge and/or ultimately contribute to these causes that need our help.
If you know of a local non-profit that could benefit by being promoted in our Community Minute, then please select the button below to nominate them and complete the short form.  This is something we are very passionate about and take great pride in.  Here at Community Lending of America, Community is at the heart of everything we do…  And we know we are not alone. 
After featuring organizations such as Operation Breakthrough, Midwest Music Foundation, Down Syndrome Innovations, No Kid Hungry, etc.; we continue to see the importance of what these non-profits are doing for the community and we want to continue to do our part and shine the light on them.  Please let us know where to shine our light next!  Nominate your favorite non-profit below.  Let's make a difference together!
Check out these recent spotlights to learn more about our local heroes!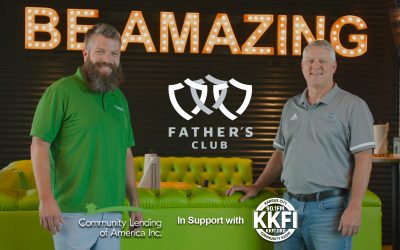 We are thrilled to be featuring The Father's Club in this month's Community Minute. They are a dad-led, grass roots effort promoting intentionally around dads' relationships and time spent with their families, with each other and within the community. The hope is that...
read more
Send us your nominations!
Know a person or organization that deserves to be in the spotlight? Send us a message and we'll look into!